"A world without tomatoes is like a string quartet without violins."
Laurie Colwin, Home Cooking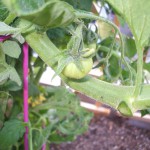 I can't help it.  I love tomatoes.  When I see them taking shape in the garden I get very excited.  In fact, I yelp, eyeing the gems.    It used to be that other things caught my fancy.  Shopping at Nordstrom's, for example.  I still like shopping at Nordstrom's, now usually twice a year (who would have thought?), but the sight of tomatoes about to happen, well, I am pure ecstatic.  A different kind of obsession, no doubt, but hopefully, a healthier one.    
Spring is definitely in the air.  The tomatoes, the peppers, all are on the verge of explosion.  More to plant, but I am definitely tasting the salad.  I am a happy person.  Watching vegetables grow is a miracle to me.  Eating them is even better.