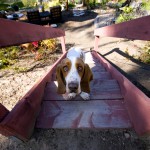 I take a deep breath and realize that I don't know what to say next.  Life has a way of doing that.  You stand at a precipice and wonder, what now?  I am feeling exactly that.  I look around me and recognize I have a lot to be grateful for, but what does that have to do with what's next? 
Enter Merlin.  For him, what's next is eating.  He hits a bowl with his paw and the sound resonates throughout the house.  He hits it again.  If that isn't enough, he hits the bag of dog food with the same force.  His bark follows.  A loud, demanding bark that tells you to pay attention.   Merlin is hungry.  Try and take a nap. It just isn't going to happen.
Dinner around our house arrives between 3:30 and 4 p.m.  What human being happens to be there doesn't matter.  Feed us and feed us now is the cry. 
We humans respond, because if we don't, havoc will descend upon the household.  Led by Merlin, followed by Bond, and then all the rest. We do not own our lives.  The dogs do.  You might as well forget any other interest.  For a dog there is no such thing as other.  There is only me.
Photo by Erik Christiansen